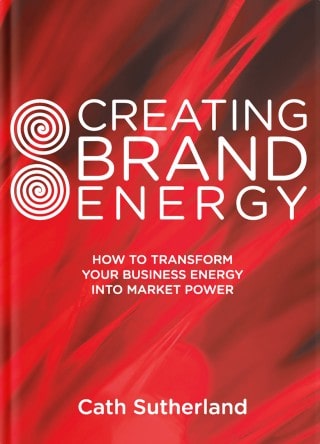 Available in:

KINDLE, EPUB & PDF

ISBN:

978-0-646-52973-8
Buy eBook $14.99
Buy Paperback $49.95 + Flat Rate Delivery To Australia $15
Buy Paperback $49.95 + International Delivery $39.95
How to transform your business energy into market power
It's all about energy. Creating a powerful brand is all about activating and managing the collective energy of everyone who works with the business – Cath Sutherland
Discover a refreshing and meaningful way of doing business: One that starts with you, and explores who you are, what you stand for and why you are here.
Cath Sutherland, invites you on a fun and affirming journey through her innovative Brand Creation Process, to discover your powerful and unique Brand Energy. This is your ultimate personalised blueprint for; who you are as a business, 'how' to do business and 'how' to operate as a Conscious Business.
Connect with and activate your Global Vision, Purpose, Values, Personality and Product to create unique emotional value that will attract 'like energy' and nurture life partnerships with your team, customers and stakeholders.
---
"Creating Brand Energy is a book for our times and for the future of business. It is Exciting, Neotenous (maintaining childlike wonder yet being an expression of wisdom), Empathetic, Really Gutsy and will be of great benefit to You, Your business and Your relationships. In short, It is positive ENERGY. Read it and grow."
Glenn Capelli CSP Churchill Fellow and author of Thinking Caps
---
This practical and creative guide is as powerful for the entrepreneur as it is for the corporate professional. Featuring inspiring case studies, it is a genuine 'how to' book demonstrating that businesses who are true to who they are (whether that is one of you or a collective) can naturally build powerful brands and long term, sustainable business success.
Creating Brand Energy features inspiring stories of Australian businesses that have successfully applied the innovative Brand Creation principles. Brand Samples include; Boost Juice Bars, ENJO, Morrison, Kailis Jewellery and Faraway Bay – The Bush Camp
Get ready to be energised!
---
Part proceeds of this book go to 100 Women.  100 Women is a giving circle igniting women philanthropists through the power of collective giving to advance the empowerment of all women.   100 Women enables everyday people to be involved in creating a world where all women and girls can live safely with access to health, education and economic freedom.  We do this by combining our member's donations and knowledge to provide high impact grants across Australia and globally.  For more information please visit www.100women.com.au